Max and MFP
If you want a pair of the boots that the MFP wore and that Max wore in all three films, you have four choices:
Option

Authenticity Level

Price/Availability

Details

1. Buy vintage Australian Rossiter's boots
*****
These are the same exact boots used in all 3 films.
You can get these for anywhere between $20 and $100 at second-hand shops in Australia – but they are rare. They rarely appear on eBay Australia as well, and can go for $100-$300 at auction.
Made by Rossiter's of Adelaide, Australia. Although the company is still in business and still makes motorcycle boots, this style is not available anymore. The boots are about 15 inches high from top to bottom.

2. Customize an old pair of Soviet officer boots
****
Once customized, these are hard to tell apart from the real thing, even compared side-by-side to original Rossi boots.
Old Soviet/Russian boots with the cobbled soles and smooth finish can still be found. With professional customizations, the total may run in the $250 area. This is the option I recommend. Contact me for details.
See the tutorial: How to make Max's boots for more information and photos.

3. Buy from MotorCowboyMotorCowboy.com
***
The consensus is that screen-accuracy is not one of strengths of this Thailand-based replica boot company. (When I sent in an original Rossi boot for them to use as a reference, they suggested adding lining and rubber soles!) I've seen a few of these in person and many of them don't look bad at all. But if you're going to spend this much on a pair of boots, make sure they fit perfectly and that they have the buckles right (note the incorrect D-shaped buckles in the photo they still use on their site.) The shop apparently is under new ownership and has been noted for their fantastic customer service.
$399. Custom made. Order from their website or check their eBay auctions for deals.
Mad Max boot replicas available from MotorCowboy. They are currently charging $399 to build you a pair from scratch – custom made to your measurements. Check their auctions on eBay for great starting bids. If you're a stickler for details like I am, insist on accurate buckles and soles.

4. Buy a pair of standard engineer boots
*
There really is nothing authentic about these, besides that they are black leather engineer boots with buckles on them. Still, they can look great on a costume, and they are a popular, affordable choice.
You can get these at almost any shoe retailer brand new for well under $100.
Your typical pair of engineer boots. Available from online retailers such as Sportsman's Guide.

Goose

Goose's style Hi-Points in comparison to all four generations.
Goose wears 2nd-generation, six-strap Alpine Star Hi-Point boots. His boots may be unusual because they are missing the small metal pieces riveted to the bottom of the front flaps over the instep, as pictured above. This is also noted by Jerry Palmer on his ClassicBoots.com Goose page. These particular boots are no longer in production, but can still be found on eBay (don't expect a low winning bid).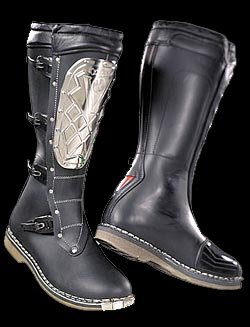 Alternatives from goth shoe retailers, Alpinestars and MSR.
Some goth shoe retailers still sell some boots similar to the above left. An online search for "metal plate boots" may help you find a pair. Alpine Star offered a third-generation look-alike. MSR offered a current version of the Alpinestars Hi-Point boot. It is unknown whether or not these are still available, but you may be able to order them at your local motorcycle gear shop, or order them online. Note: the newer Hi-Points are very big. They will go up to the knees. So unless you're a motorbike rider and want the added protection, try to get some of the smaller vintage versions.
CLASSICBOOTS.COM has an excellent display of various Hi-Point boots, as well as engineer boots, and leather jackets.